For many years sand, cement, water is being used to install the tiles which are time-consuming and do not stick properly, whether it's wall tiles or floor tiles. Sand- cement mixture will cause de-bonding problems, Aesthetic time consuming, Material wastage, and also limited applications.
To overcome all the disadvantages of the sand-cement mixture, tile adhesive is used to hold the tiles long lastingly. It is ready to use a mixture with water, and also a pre-mixture tile adhesive which is available in the market.
Various types & uses of tile adhesive
Tiles Flooring: Tile adhesives for tile flooring are usually polymers like acrylic, latex, epoxy, etc., are used to modify cement-based tile adhesives that come in powdered form and must be combined with water prior to use. They have waterproof qualities and can be used in wet environments such as bathrooms, kitchens, and swimming pools.
Wall Cladding: For use on wall cladding, polymer-modified tile adhesives with non-skid qualities are applied, which hold the tiles very quickly on the walls. This tile adhesive can be used to install ceramic and moisture-resistant tiles, with amazingly easy-to-stick tiles to any surface.
Fixing Glass and Mosaics: Fixing glass and mosaics requires the use of high-strength adhesives. They can also be used to fix tiles in immersed areas like bathrooms and swimming pools. These adhesives are the most expensive.
Fixing New Tiles on Existing Tile Flooring: Fixing new tiles over old ones, a Tile adhesive with non-skid and no shrinking properties is utilized for this purpose. Special polymers are mixed with a cementitious mixture to create them.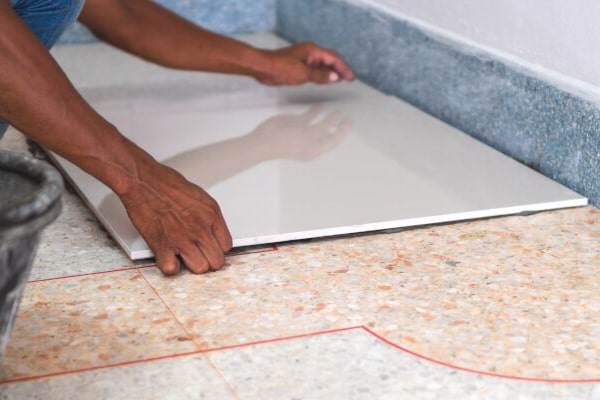 Stick tiles to wooden surfaces: To fix tile on wooden and plywood surfaces, special liquid forms of tile adhesives are available in the market, to have high bonding strength it is mixed with a non-skid adhesive.
Benefits of Tile Adhesives
Easy to use:-
It's quite simple to use tile Adhesive simply mix it with water and it'll be ready to use. The fact that the product is packed makes transportation easier, as well as offers a dust-free and clean working environment. The tiles do not need to be moistened.
Fast and efficient:-
By mixing with the polymers, tile adhesive is fast and efficient, starts laying tiles, and quickly adjusts the lines.
Working quality:-
To reduce many problems like broken tiles, water seeping, and stain or efflorescent, tile Adhesive plays a major role which is quick setting and long-lasting
Variety of work:-
Tile adhesives are formulated for specific applications such as laying tiles, glass mosaics, laying tiles on polished substrates, drywall systems, laying tiles over existing tiles without removing them, external areas, parking lots, industrial areas, swimming pools, and many others.
Economical reasons:-
The adhesive layer is much thinner than the sand-cement mixture for adhesive in tiles, resulting in reduced stress on the building structure.
There are dozens of adhesives available in the market at different prices. We can choose from our budget. This makes tiles being laid in line and gives the aesthetic final look. If you are looking to purchase Tiles adhesives, you can check our best prices of tile adhesives here.