Before knowing what are the trending 3D designer tiles, let's discuss first what are 3D tiles! It is a tempered glass tile with a three-dimensional image deposited on and it is assembled using microlens technology, which provides a realistic image. You will like and can almost touch the real design or graphic as it is incredibly realistic.
The delusion of a parallel world is created with 3D floor tiles. You will have the sensation of touching a real flower or cutlery when you enter the space. This fascinating sight and feel will astound your guests, as these tiles transform any ordinary space into a work of contemporary art.
How do 3D designer tiles add beauty to your space?
3D designer tiles add a new texture and visual depth to your home, and they can provide you with a timeless design element. With little effort, these unique 3d designer tiles can transform any room into something entirely new. You can use 3D tiles to enhance any space, whether it's your living room, kitchen, or bathroom. And, because these tiles are available in a variety of materials, finishes, and designs, the possibilities for updating your home are truly endless.
Flowers, cutlery, hills, beaches, diamonds, geometric, and other popular 3D tile designs are currently popular where these tiles will give your space a modern and sophisticated look, whether it is a commercial or residential space. The 3D flood tile price is quite affordable and is definitely a hit for your every spent, despite the fact that these 3D tiles are literally an amazing tile design trend for 2022
With so many exciting new options to choose from, you're sure to find the perfect 3d tile to match your décor and design scheme.
Now, let's discuss in-depth trending 3d designer tiles
3D Tiles for Dining Room
Your dining room is a gathering spot for meals and parties. With the help of 3D tiles, give this space an elegant touch. Install wave texture 3d tiles in your dining room to give it a contemporary feel. When paired with a round table, and comfortable chairs, these tiles look fantastic. The distinctively modern style can spruce up any dining area and add a dramatic touch to the space, giving it a bold look and feel. Choose a neutral color so your dining room will always look great
3D Tiles for Kitchen
We're also big entertainers for our large, close-knit families. When we get together, the kitchen is the only room in the house that is never left untouched. As a result, modular wall designs in the kitchen play an important role in giving it a scenic look and feel. For this dramatic look, we can install geometric 3D tiles as these are adding the wow factor to a sleek and sophisticated kitchen and what's great about this tile is that it changes throughout the day as the light creates different effects and angles, giving it a level of finesse that a regular subway tile lacks.
3D Tiles for Bedroom
Your bedroom is a tranquil retreat where you can unwind after a long day. Make it even cozier by using link look 3D tiles to add a warm element to the space. Consider something with a rustic look to add an inviting touch to the space while also providing a calming effect. Links offers an elegantly simple solution for shaping your space with uniqueness and flair, thanks to its clean, rounded contour.
3D Tiles for Bathroom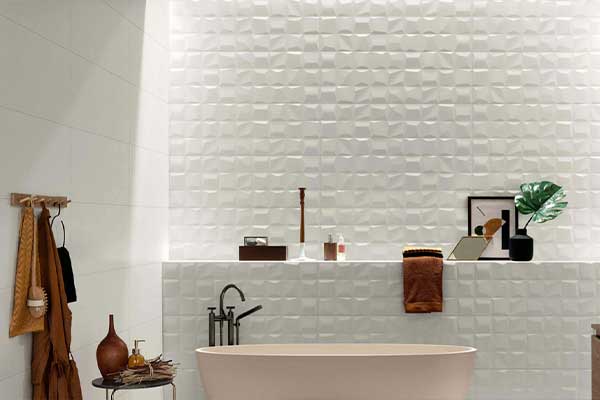 For many people, designing their bathroom is an exciting but daunting task. If you are not a professional, we understand that designing a bathroom can be a difficult, time-consuming, and costly process. So we suggest trying something like 3D micro-mosaic tiles if you want to put a new spin on a classic style. Tiny tiles are ideal for use as a backsplash, around the tub, or to cover the shower walls. To give your bathroom a personal touch, choose from a variety of color schemes. The grown surface gives 3D tiles in the bathroom a bold look that adds a modern, edgy element to your bathing space.
3D Tiles for Living Room
There is no doubt that your living room reflects your personal style and personality. It's the first thing your guests see when they walk in. As a result, it is vital to ensure that your living room is aesthetically pleasing, functional, and comfortable. An impressive feature wall accented with 3D tiles can easily elevate this important space. Choose a tile with a dramatic hue, such as a geometric Hexa, black and white combination tiles, to create a bold, two-toned look. When paired with light-colored furniture and accent pieces, this tile will look stunning.
There are so many different styles and types of 3d designer tiles. Finding 3D tiles that match your personality and design style is simple. One thing we can surely say is that three-dimensional tiles will add a lot of artistic flair to any room and create a unique aesthetic that will last for years.

Check This Out: What is the Difference Between Marble and Granite (Marble vs Granite)