We offer top priority to the interiors of our homes, such as floors and walls, in terms of design, durability, color, and price. But we pay less attention to roofing. It's rarely considered because why would anyone be worried about what's above them rather than what's beneath them? The roofing is an important part of any building because it protects you from natural disasters such as rain, heavy winds, and extreme temperatures. As a result, it's imperative to choose the roofing type carefully by considering certain factors. We'll take a closer look at a few different roofing options that you may want to consider.
Solar Shingle
A Solar Shingle is a solar panel that produces electricity. It not only a solar energy solution but also serves its purpose of being a conventional roofing. Solar shingles came to the fore when it was commercially made available in 2005. Ever since Solar Shingle has been adopted rapidly because of its cost-effectiveness and technological advancements that come with trendy designs. The maintenance factor is limited as its design makes it robust and durable against any damage on most fronts. It could easily last for at least 25 years with the minimum care. The environment friendliness by saving energy makes it a preferred choice.
Asphalt Shingle
Asphalt Shingles are a form of asphalt-based roofing material (a sticky, black, viscous liquid form of petroleum). Asphalt shingles are made from two kinds of materials: organic and fiberglass. The shingles were first formed in 1893, but they did not have surface granules. Asphalt shingles were first used in America in 1901, and since 1911 they were commonly used by the public. Asphalt roofing can be expensive, as it is intended to last from around 5 to 30 years. This roof is easy to install, and many people choose to do it themselves. However, it is best suited for garages and sheds; however, it is not a great alternative for homes.
Rubber Slate Roofing
Rubber Slate Roofing is made from recycled tires as well as other rubber items. Additives are added to Rubber Slate Roofing to enhance their color and stability. These are put through a process that turns them into liquid, which can be shaped into slate tile shapes. The roof is given the highest rating ever for any other roof tile for its strong resistance against significant damage.  Rubber Slate Roofing is not inexpensive. However, it is not only less expensive than asphalt shingles, but it also has a longer lifespan of up to 50 years. However, rubber is a flammable material, so it is not a safe prospect. It can also make one feel at ease due to the odor it emits, which is similar to a tire factory. So there are a few things to think about before proceeding.
Stone Coated Steel Roofing
Stone Coated Steel Roofing is a hybrid of tile and shingle that provides a long-lasting and attractive roof. You have a variety of options to choose from when it comes to your home or property. Its durability is what makes it a go-to choice for everyone. And with little or no maintenance, it could last a lifetime. However, it is a pricey roofing material that some people will be unable to afford. Since the disadvantages are less important, you might want to consider this as a better choice.
Metal Roofing
A metal roof is made of metal materials that are known for their toughness and resistance. The most widely used materials are copper, zinc, and steel alloys. During the American Revolutionary War, a manufacturer in New Jersey, America, invented sheet metal. He had created it to have a top covering for his mansion.   A metal roof could last for 100 years, and many installers offer a 50-year warranty. The majority of recycled materials are used to build a metal roof.  It also makes noises when it rains, and hailstorm-like incidents can cause larger dents. Hence making it susceptible to damage could make it expensive. Various types of coatings are applied to metal roofs to protect them from corrosion, provide waterproofing, and provide heat protection.
Wood Shingle
Wood shingles are small, tapered pieces of wood used to cover roofs and the tops of buildings. For centuries, wood has been widely used, not just for roofing but also for homes, shops, temples, and other structures. Wood has a beautiful appearance, a wonderful smell, and is resistant to temperature, humidity, and insects. Since it is an organic material, it can degrade with time. As it is flammable, there is a risk of fire. As compared to asphalt shingles, wood shingles, and rubber slate roofing, are less expensive. This roofing is also long-lasting, with a lifespan of up to 30 years. It may require annual maintenance like painting just to ensure that it remains insects free which may cause problems.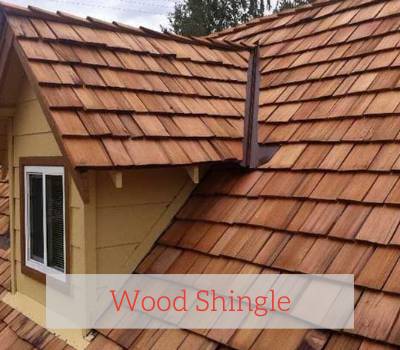 Conclusion
These were just a few among the several other roofing types with their pros and cons. Factors like cost, durability, the lifespan of the material, etc. are few crucial aspects that you must keep in mind when choosing your pick. This thorough research on the different roofing ideas will help you avoid possible confusion while selecting one.
If you like the information, then share it across.
Check out more: What is Aggregate and its Classification