Roofing plays a significant role while constructing or renovating a building as it makes a great impression on a building. These days everybody seeks novelty at their Home for a serene experience. Industries do expect new technology in roofing sheets and their types due to various applications at the manufacturing units. These demands lead to new changes in the roofing industry.
Below are the 6 most popular types of Roofing Materials to consider when installing or replacing a roof:
Asphalt as Roofing Material:
Asphalt is the most commonly used and popular material for Roofing. They are available in the market as asphalt roof shingles and asphalt rolled roofing material. Generally, they are made up of fibreglass saturated with asphalt. The exposed surface is impregnated with small chips of ceramic granules or quartz and the bottom side is coated with asphalt. The rolled asphalt roofing material is easy to install as it doesn't require any skills. They are preferred for flat roofing where appearance ain't a priority. Whereas Asphalt Roof Shingles are rectangular in shape which is laid from the roof's bottom edge with consecutive overlapping at joints for slope roofs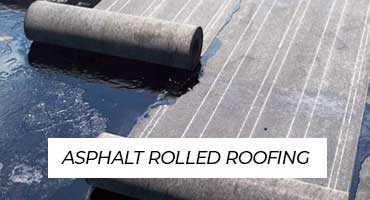 Average Life Expectancy: The average life expectancy is 6-10 years for rolled roofing and 20-30 years for asphalt shingles as they are resistant to fire.
Cost: The asphalt rolled roofing sheet is inexpensive when compared to asphalt shingles. The cost for one asphalt shingle lies between Rs. 60-140/sq.ft
Natural Slate Shingles:
These slate shingles are rectangular natural granite stones with no adhesives added to them. They are naturally found on earth which makes them look beautiful with their natural look. These eco-friendly thin slate sheets are laid on a sloping roof which can be employed only by skilled persons.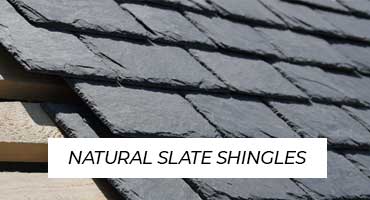 Average Life Expectancy: The average life expectancy is way higher when compared to other roofing materials i.e., 75-200 years, and are retardant to fire.
Cost: Depending upon the quality, the cost of slate roof tile is ranging between Rs. 30-170/sq.ft
Metal Roof Tiles:
When appearance is the top priority, then metal shingles or metal shakes are perfect. These metal shingles can be made of aluminium, zinc, copper, and steel. They are available in plenty of colours, styles, and textures.
Average Life Expectancy: The average life expectancy can be 50-70 years
Cost: The price of a metal roof tile can be ranged between Rs. 50-120/sq.ft. Depending on the metal, texture, and efficiency, the cost can be varied.
Wood Shingles or Wood Shakes:
Wood as a roofing material has a stunning look but have few limitations to use it as a roofing material. But they are quite expensive for their appearance. They are not resistant to fire as they are made of natural wood. Wooden roof shingles and wood shakes slightly differ in their size and texture. The wood shingle is a smooth thin wedge shape slab whereas wood shake extracted from a split wood with a rough texture.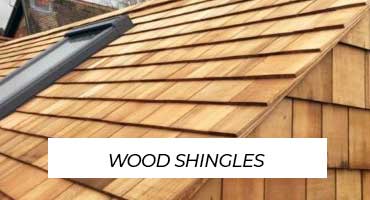 Average Life Expectancy: Depending on the environmental conditions and maintenance, the average life expectancy can be in between 20-60 years
Cost: The cost can be varied for different wood types. Generally, the cost can be from Rs. 60 to 175 per square feet.
Clay Roof Tiles:
These are made of clay, moulded in a shape to interlock with each other, and burnt for hardness. This type of roofing tile can be preferred for hot climates, generally in a reddish-brown colour. They are the best roofing tile for coastal regions that can withstand the salty breeze.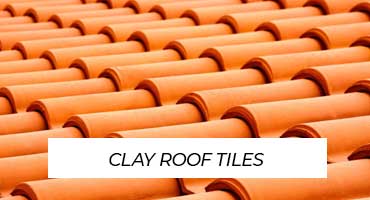 Average Life Expectancy: It's a long-lasting roofing tile that can last longer than 100 years.
Cost: They are available at affordable prices according to efficiency. The price can be varied from colour to colour and clay type, ranging between Rs. 15-150 per square feet.
Synthetic Roof Tiles:
This is an engineered roofing material made up of recycled plastic and rubber. Visually this is alike to natural slate and quite impossible to differentiate. This synthetic roofing material is so light, thus suitable for houses that cannot withstand heavyweights.
Average Life Expectancy: Average life expectancy for this polymeric synthetic material is 50 years.
Cost: The cost of synthetic roofing materials differs on product quality. The average price of synthetic roofing material is Rs.150 per square foot.
Choosing an inexpensive roofing material is really easy and quick but lasts for a short period of time and end up burning all your investment. So, choosing a roofing material according to the circumstances even it's expensive will always be a wise step. Pick the right type of roofing material before installing or replacing the roof as they can be durable over decades.
Spread the word!
Do check this out: Types of Elegant Windows For Houses