Every House Owner or Resident should be aware of Tiles and their types as they are the most extensively used building material for designing your home. You always need to know about the different types of tiles material before installation. Choosing the right type of tile according to its application is a wise step before renovating or building your home or commercial space.
There are tonnes of varieties in Tiles depending upon the materials, surface, installation. There are a variety of tiles like Floor Tiles, Wall Tiles, Parking Tiles available in numerous colours, shades and sizes. So, here are some tiles types based upon their availability in the market.
Different Types of Tiles based on Materials are as follows:
Porcelain Tiles: This type of tiles is made up of finely grounded denser clay and burnt at high temperature to eliminate moisture from the tile which make the tile harder and denser. Due to its properties, it is mostly used for Flooring for densely populated areas like Commercial places, Residential Homes. The water absorption is less than 0.5% for Porcelain Tiles and the cost is higher when compared to ceramic tiles.
Ceramic Tiles: These are the non-porcelain tiles. These Tiles are made up of natural clay, sand, quartz, feldspar and water. These materials are finely ground and moulded to the required shape, generally either in square or rectangle and fired in a kiln to make it free from moisture. The clay used in this is less dense than that of clay used in Porcelain. They are extensively used in Flooring, Walls, Kitchen Countertops, Walkways and patios (an outdoor paved area which is connected to a house generally used for recreation or dining).
Vitrified Tile: Vitrified tile is a Ceramic Tile which is less porous. These tiles are used in such places where they can withstand under heavy pressure and are durable. The best use of Vitrified Tiles is at the dining room, bedroom and living room as Flooring and Wall Coverings available in customized designs according to your taste and choice.
Mosaic Tile: These are small pieces of tiles in which each piece is lesser than 2 inches in length and breadth. They are available in several numbers of shapes. These same tiles are laid to form creative patterns which give us a unique and elegant look. These tiles are made up of glass, stone, real pebbles, metal, porcelain, ceramic and many more. These tiles are used anywhere, whether it could be a living room, kitchen, bathroom.
Cement Tile: These tiles are mostly Handmade and are the oldest tiles type existing from Centuries. To manufacture a Cement Tile, we just require a few materials which are easily available in the market. They are Portland Cement, a mould, colour pigments to die and a hydraulic press. These tiles can be used in a hallway, bathroom, kitchen, balcony, living room, rooftop. Can also be used at Workplaces like Offices.
Glass Tile: Glass Tiles has a glossy look available in several options such as transparent (which has colour and shine), opaque (which is not transparent), bubble (which has bubble trapped in it), crystal (which is transparent and it's back dyed with colour) and mosaic can be polished and frosted pieces of glass tiles laid as a sheet. It can be used in Kitchen Backsplashes, Hearth, Bathroom, Swimming Pools which gives a Creative Appearance and it cannot be recommended for Flooring. This type of Tiles is costlier than all types of tiles but worth for its beauty.
Metal Tile: The materials used to manufacture this type of tiles are aluminium, tin, stainless steel, copper and used tiles which makes it eco-friendly. Metal peel and stick tiles are available in the market for easy installation and are used for Backsplash. A mosaic metal tile is also available which gives a 3-dimensional (3D) impression. These types of tiles can be used on Walls, Backsplashes and widely used as ceiling tiles.
Natural Stone Tiles
These tiles are made up of naturally available stones. Those are listed below.
Granite Tiles are made from granite rocks which are known for its hardness, durability, vintage charm and endless colours and shades. The parent rock for this is Igneous Rock. Extensively used for Kitchen Countertops, Staircases and flooring.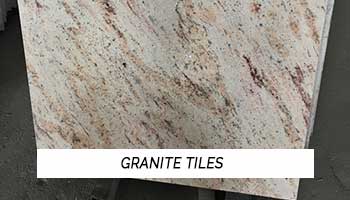 Slate Tiles are obtained from the Metamorphic Rock. It is a derived product of sedimentary rock of volcanic clay and ash. These tiles colour depends on its mineral composition. It is widely used as Roof Tiles but commonly used as Floor Tiles, Backsplashes & Stepping Stones (generally termed as Staircase).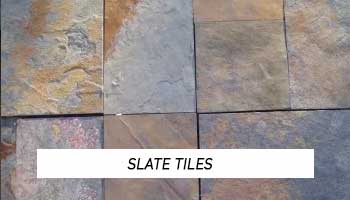 Limestone Tile is extracted from sedimentary rock has dark and light shades. It can be used for Outdoor and Indoor purposes like Patios and Backsplashes.
Travertine Tile is basically a limestone type. It is a derivative due to natural springs. Numerous colours are due to its organic composition. It can be used as Floor Tiles, Wall Tiles, Patios, Walkways, Courtyards and much more for its radiant appearance.
Marble Tile is obtained from Metamorphic Rock which is composed of recrystallised carbonate minerals like dolomite. This type of Tile is used for Interior and Exterior Flooring which has an absolute magnificent look.
Sandstone Tile is made up of sedimentary rock formed from sand-size grains of mineral, organic substance. This type of tile is designated for Pavements, Walls, dining rooms flooring, roofing, hallways and many more.
These are some of the most used Tiles Types. There are many other different types of tiles other than the above ones like Onyx, Faux Wood, Quartzite, Terrazzo, Quarry, Wooden, Terracotta, Stone & Pebbles Mosaic Tiles which has their own significance depending upon the application with glossy, luxurious, durability and natural look. So, make sure you choose the best suitable tiles which help you to design your beautiful home.

Check Out: 6 Impressive Types of Roofing Materials to Consider