Are you looking for a way to make a pleasant bedroom design that also serves as a peaceful retreat? Yes, without a doubt! Make sure it reflects your unique style, including your favorite materials, colors, and patterns, and is well-lit to make the most of the space available. Wrap your sleepy eyelids around this collection of stimulating modern bedroom ideas and gorgeous bedroom accessories, and you'll be wide up in no time. You've come to the correct place if you're looking for some stunning bedroom furniture ideas.
Let's have a look at the best Bedroom Furniture Ideas
Create a foundation for your modern bedroom design. The low-slung platform bed has become a popular piece of contemporary bedroom furniture, and it is available in a variety of styles and finishes.





Make your way to a good night's sleep by coloring. Blue is a relaxing and peaceful color that may aid in sleep and relaxation.





Using light and shade, create a magnificent headboard feature wall. This design incorporates extruded panels and LED strip lights to create a genuine one-of-a-kind installation that you won't find at your friend's house.





With a matching pair of swish designer table lamps, you can double the style factor.





Install a floor-to-ceiling frameless mirror to make a tiny bedroom feel larger. The eye is fooled by the room's image in the mirror, which gives the impression of a larger space.





Modern wall sconces in shiny copper add warmth to plain white bedroom décor. A vibrant accent chair will also add to the scheme's vibrancy.





In hot areas, unique ceiling fans are a necessity. As you would with a bedroom pendant lamp, consider the attractiveness of your ceiling fan as a vital component of the décor. Statement bedroom wall clocks are also a good alternative to a pathetically small bedside clock.





If you don't have enough room for bedside tables, headboard storage niches are an excellent alternative. Both are included in this bedroom décor.





Instead of taking up valuable table space with a lamp, consider hanging pendant light over the bedside unit. This scheme's contemporary chandelier is a terrific show-stopper. Another fashionable option is a bedside floor lamp.





Place a wide area rug beneath your bed to visually anchor it in the space. It'll also keep your toes warm till you can put on your slippers.
7 Beautiful Space-Saving Furniture Ideas for Small Bedrooms for Indian Homes
It might be difficult to settle into a home with a small bedroom. How are you going to fit all of the necessary furniture in there while still leaving enough room for storage? There isn't much room for a dresser, bed, nightstand, floor lamp, and desk in a small space.
There are many possibilities for bedroom furniture for small spaces, but it will take some searching. Slimmed-down versions of traditional furniture, innovative storage solutions, and a thoughtful layout can all help you get everything you need in a bedroom without feeling claustrophobic.
1. Twin Sized Bed
Obviously, twin beds aren't for everyone, but they function just as well in a guest room or a kid's room. A twin-size bed provides a lot more floor room, which is especially beneficial for children who need a place to play. More floor space also implies more room for other key pieces of furniture for the room and the person who uses it.
2. Nightstand with a Narrow Base
Nightstands are really beneficial. They can fit your phone, a cup of water, and a place to put your book as you sleep.
3. Shelving & Storage Cubes
Cube storage and shelving are fantastic because they can usually be stacked on top of each other. This means that if you need more storage space in the future, you can buy another row of shelves to stack on top without taking up any additional floor space.

It has a wide range of applications. Cubes can be utilized as drawers in some areas, books can be stored in others, and other areas can be used for more decorative items. It will create a unified aesthetic while being functional.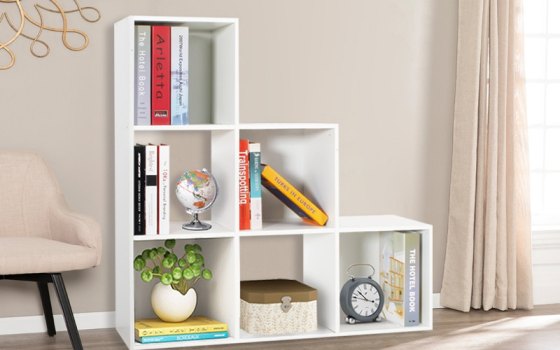 4. Storage Bench for Small Spaces
A compact storage bench can be used for both seating and storage. You may acquire something like this small seat that blends in with your existing décor rather than looking out of place.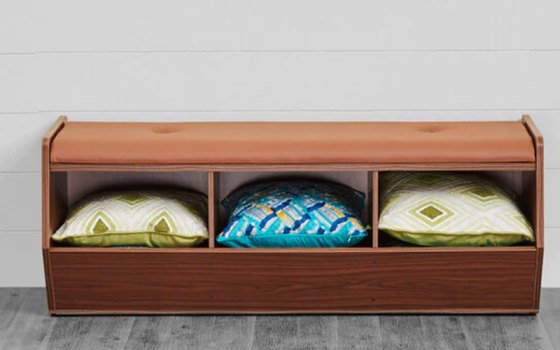 5. Side Table Mounted on the Wall
Who says a nightstand needs to be a bedside table? A wall-mounted shelf can also be used as a bedside table. For instance, take a look at this shelf. It includes two levels, with enough room for books, a phone, and everything else you need close by when sleeping. Not to add, something like this can blend in better with your décor than standard space-saving bedroom furniture.
6. Desk that Folds Out
If you wish to install a desk in your small bedroom, you may find it difficult to fit it in among the other huge furniture pieces. A fold-out desk, such as this one, is a fantastic option. When it's not in use, it can be stored away, and even when it's in use, it doesn't take up much space.
7. Storage-Friendly Murphy Bed
Murphy beds are a terrific way to preserve space in a guest room that is only used sometimes. When it's not in use, you can fold it up to save space, and then simply take it out when you have visitors. If you purchase a murphy bed with a built-in shelf, you can gain even more storage. Plus, when closed, it resembles a giant wardrobe closet rather than a clumsy, out-of-date piece of furniture.
Do Check Out This: Best Bedroom Interior Design Ideas For a Modern Look