A bedroom should be heaven – a quiet gateway in the middle of a busy day, a place to decompress while changing work clothes, or even a pleasant area to watch the evening news.
Most importantly, a bedroom should be the most relaxing and pleasant area to unwind after a hard day.
Many of us, however, have no idea how to decorate a bedroom. Frequently, our leftovers end up on our beds. Our focus majorly is on our living rooms or kitchens, places that are noticeable by the guests, but failing to notice the master bedroom where we will spend more than one-third of our lives! Here we will give you the best 10 tricks to rethink master bedroom interior design ideas.

10 Beautiful Master Bedroom Interior Design Ideas
Choose subtle color (Try blue and white)
Don't overlook the ceiling
Keep the bedroom simple
Choose the right size furniture
Have plenty of storage
Include a private nook
Indulge in luxurious linens
Cover the windows
Create a layered look
Keep the palette light photo, wall painting
Interior design for a small bedroom can be overwhelming and downright frustrating, but we're here to tell you small bedroom interior design ideas that are easy to work on.
Take a look at our top ten tips and tactics to see which ones work best for your little bedroom.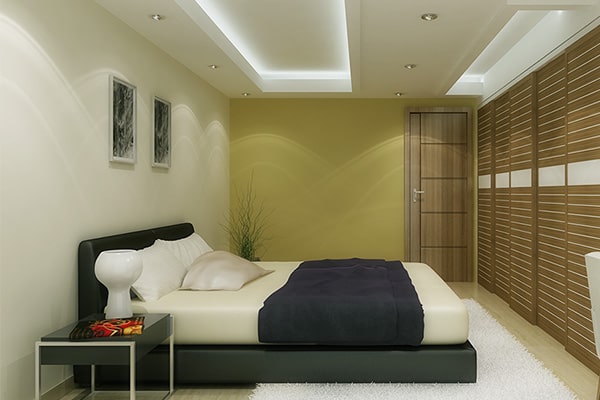 Let your ceiling make a statement
Opt for a hanging nightstand
Make your own nightstand to fit your room
Mount your bedside lighting
Install a murphy bed
Get a bedside C-table for instant workspace
Go bold with color
Try to use every inch of available space
Finish the walls with horizontal wood boards
Display accessories as decor
Modern bedroom interior design ideas use recessed lighting and glass to add light and space. This modern bedroom design uses recessed lighting within the ceiling to create more space and light. Simple decorative features, such as the wood panel, accent wall and headboard, neutral color palette, and glass door and wall, help to make this room flow nicely.
7 Tips to Make Your Modern Bedroom Design Pretty Cool
Use bright and neutral colors
Make it more open-plan
Maximize the amount of natural light
Add some natural materials
Use subtle accent hues
Keep things simple
Build a stylish bed
There are many child bedroom interior design ideas you can use to save space in your child's bedroom. Go vertical with bedding and storage. Keep some toys out of reach.
A teenage kid's bedroom can be decorated with wall accents, rugs, colorful pillows, and pretty decorative things like lamps or ceramic figurines. Wall shelves can also be added and displayed with books or indoor pots.

Child's bedroom interior design ideas can be made interesting with multifunctional furniture like foldable study tables, bunk beds, play dens, and colorful storage cabinets. Rugs, carpets, cushions, curtains, and stuffed toys can all be used to decorate the space.
Although the home is where the heart is, the bedroom is where the soul is. The bedroom is your calm haven, the area where you may unwind after a long day. It's no surprise that we devote so much time to find the ideal bedroom decor.

Do check out this: What is a modular kitchen design and it's types