What is Silica Sand?
Silica Sand is also known as Quartz Sand as it is the derived product of Quartz. With the friction of water and wind, quartz broke down into tiny granular molecules. Thus, Silica Sand is formed. They are fine non-crystalline molecules of SiO2. The mineral composition of Silica (SiO2) is a mixture of Silicon and Oxygen. They can be available on Earth Crust or can be mined for the extraction of pure silica sand. The extracted ore undergoes processing for the removal of impurities to obtain the purest form of silica sand. It is then dried up and sized to a certain particle size according to its application.
How Silica Sand is Different from Regular Sand?
The material is considered Silica Sand when it consists of at least 95% of SiO2 whereas other types of sand have approximately 80% of SiO2 or below. Silica Sand is not similar to other types of sand, concrete, and gravel as it is one of the purest forms of sand. The pure silica sand doesn't have any colour. If it does, then that's only due to the impurities in it. Generally found in white, yellow, or beige colours. Because of its high strength and hardness, it is widely used in various industries. Hence, named Industrial Sand.
9 Major Uses of Silica Sand
1. Construction:
It is extensively used in Construction. It is highly used in the production of mortars and concrete as it acts as a primary component for many building materials i.e., the whole grain silica sand is used in roofing shingle, cement, mortars, asphalt mixtures, and other flooring compounds. Due to its properties, it helps improves durability. Ground silica, an anti-corrosive material acts as the functional extender
2. Glass Production:
Without silica sand, glass making is impossible. To manufacture any type of glass, silica sand is the raw material. The strong chemical purity of silica sand makes it the best fit for producing any type of glass whether it could be mirror glass, fibreglass, test tubes, decorative glassware, window glasses, monitor screens, bulbs are many more
3. Metal Casting:
For the purpose of moulding metals in several shapes, it is used in the foundry industry. Metal parts are cast into the sand to produce the new metal moulds. Here it is also used to clean the casting surfaces as it can withstand the high temperatures of molten metal. For metals such as cast iron, steel, titanium, it is the most preferred sand for casting
4. Paint and Coating:
Silica Sand has high-performance properties like oil absorption, colour consistency, reflectance, and brightness that help improve the durability and appearance of any type of industrial paints and coatings. Along with these advantages, using silica fillers in architectural paints improves tint retention, prevents cracking, and is resistant to dirt
5. Oil and Gas Recovery:
The main useful property of silica sand in the Oil industry is its hardness. Here it is known as Frac Sand. Due to its chemical purity, it is capable to attack the corrosive environment, its granules deposit makes the most of formation cuttings and when pumped down in deep wells helps improve the oil flow rate
6. Water Filtration and its Production:
We may have listened that sand is used in the water filtration process. But using Silica Sand as a filtration bed works more effectively in filtering the contaminants in wastewater processing and drinking water filtration. When exposed to contaminants, solvents, and acids, this sand will not react with any of those, instead neutralizes the acidic elements and balances the pH levels in water filters.
7. Industrial Abrasives:
This is commonly used in industries as an abrasive material for Sand Blasting. Due to its angular varieties, it makes the rough surfaces smooth with this Industrial Abrasive Blasting. However, Industries should take precautions to prevent the health issues caused by the dangerous sand dust. It can be prevented by using resins or coating sand with solvents to control the sand dust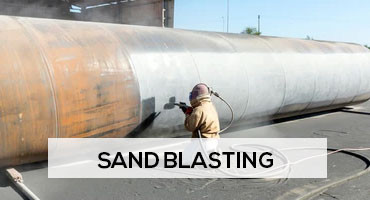 8. Ceramics & Refractories:
Powdered Silica is an essential component in the making or glazing of ceramic products such as wall tiles, floor tiles, tableware, sanitaryware, and other decor products. Silica serves as the structural strength for the ceramic frames. It improves the appearance and structural integrity by regulating shrinkage, drying, and modifying the thermal expansion. Thus, ceramic products gain durability. The ceramic refractory materials are resistant to acid attacks when exposed to high temperatures in industrial furnaces
9. Calcium Silicate Bricks:
Silica is used in the manufacturing of Calcium Silicate Bricks. These bricks are preferred by architects due to their sharp straight edges to attain desired designs and shapes. They are economical and Eco-friendly to use and are resistant to fire, noise. Due to the hardness provided by silica sand, the walls constructed by these bricks are thinner but of high compressive strength and needs less mortar quantity. Thus, the cost of construction can be reduced.
The uses of Silica Sand do not end here as the above ones are the few major uses. It has a wide range of use in day-to-day life in various industries including Chemical Production, Adhesives, Wood Finishes, Distempers, bunkers, greens on Golf Courses, Turf fields, Synthetic Sports Fields, and so on.
Spread the word!
Do check this out: Types of Doors for Your Home