Are you thinking of a perfect small kitchen designs that will look sumptuous and suitable for your small house? If yes then, this article is going to be beneficial for you to design your dream kitchen with appropriate element.
Most people think small kitchens are not as feasible as bigger kitchens. Though small kitchens have smaller space that does not mean you have to prioritize the work to finish it in a specified time. You can optimize your minimal kitchen area by using every inch of your kitchen to making it an even more elegant space for the entire family.
In this post, you can refer to a few small kitchen design ideas that can make your small kitchen look even bigger and beautiful with proper kitchen arrangements.
1. Mount bold tile flooring
Bold tile flooring can be a good idea for a small kitchen because these patterns distract the eyes and create the illusion of bigger space. Moreover, it adds an exquisite look to the entire kitchen and makes it a more subtle place to cook for the family members.
2. Invest in flexible storage
When it is a small area it is always better to invest in a flexible storage solution. You have to be creative in designing every space of your kitchen according to your kitchen aspects. Despite investing in an ordinary shelf you should invest in new, multi-purpose shelves that can fix your most storage issues.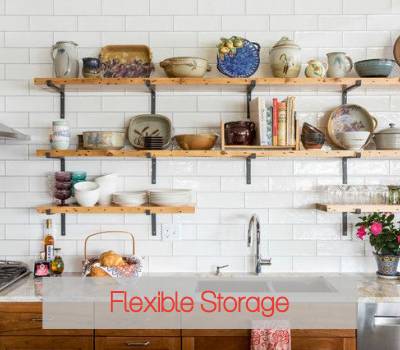 3. Prefer a crisp color scheme
Color combination plays a crucial role in a home that makes the place look stunning. Similarly, for a small kitchen, the right color code will make the kitchen stand out from any other spot in the house. White or any neutral paint colors will make your kitchen look more appealing and spacious at the same time. A neutral color usually bounces the light and makes space feel bigger.
4. Utilize wall space to put up a compact design
When space matters in a small kitchen every inch counts to make the kitchen attractive and operative in all aspects. Use the complete wall from top to bottom to create storage space or cabinets for each kitchen appliance. In this compact design, everything comes under one single unit. As a result, space optimization is done properly.
5. Install a multi-purpose island
If you want an island for your kitchen then make it a multi purpose island. Make sure you utilize your island for the countertop, dining area, and storage unit. These types of islands could save a lot of space and give a beautiful look to your kitchen.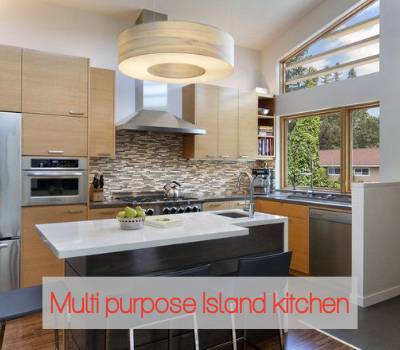 6. Match the color of walls and cupboards
The light color scheme works well to create the illusion of a large space. For a small kitchen match the color of the cupboard with the wall as it will make your small kitchen look big. This color also enhances the cozy feeling and makes the room look neat and clean throughout.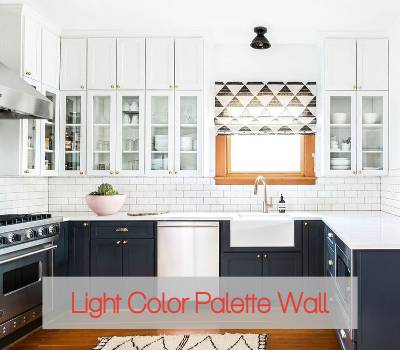 7. Hide kitchen Appliance
The tiny kitchen does not have enough worktop space to place any cooking appliances above. This also leads to a messy kitchen that creates an unsettling feeling inside the kitchen. So consult with the contractor to create a space that can hide all your kitchen appliances.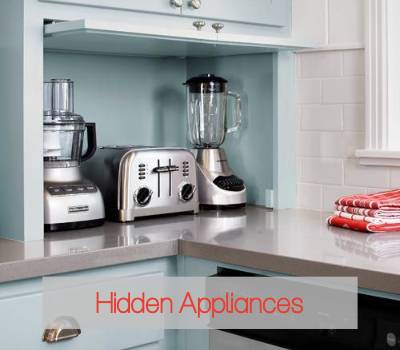 8. Install statement lights
For a small kitchen, an elegant statement light could be a greater option than any wall light. These statement lights complement the entire look of the kitchen and provide an incredible sophistication feeling.
9. Opt for tiered shelving
An open tired shelving i.e one top of the other is a great choice to locate any essential thing which can be easily accessible. You can arrange any kitchen items that are used often and locate any plants to give the kitchen an aesthetic look.
10. Organize strategically
In a small kitchen, arranging stuff is more important as it makes your kitchen look amazing and clutter-free. So efficient cooking is possible when you arrange the stuff in their allocated space.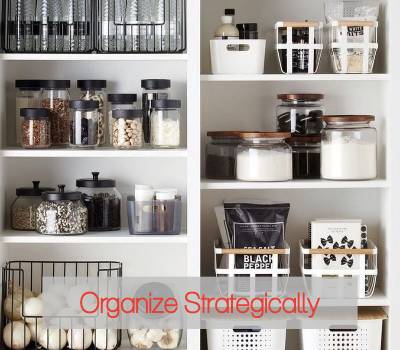 11. Infuse some greenery
The green combination turns everything looks more elegant and spreads freshness to the atmosphere. So, consider decorating your kitchen with green plants. It will make you feel refreshed every time you enter the kitchen.
12. Mount floating table
The floating table is cost-effective and looks good in a small kitchen. It saves space and can be used for various purposes.
13. Conceal Everything
Few people want to conceal their tiny kitchen. This is a good choice for you if you have kids and you don't want them to enter the kitchen. The biggest benefit of a concealed kitchen is that you can cover your mess.
14. Opt for backless stools
Always choose backless stools for a small kitchen. It is feasible and also doesn't require much space.
15. Go for a deep sink to conceal dishes
The sink usually looks dirty, and the utensils are often stacked up above the sink if the sink is small. So a deep sink is a solution for this mess and it lets you hide all your dishes.
If you like the like the information, then spread it to others.
You can refer to these ideas to make your small kitchen look more beautiful, luxurious, and organized.
If you find the article helpful then, share it across.
Check out: What Is Modular Kitchen Design And It's Types [6 Amazing Kitchen Designs]